One of our many beautiful wedding dresses featured in a professional bridal photoshoot by Wild & Grace.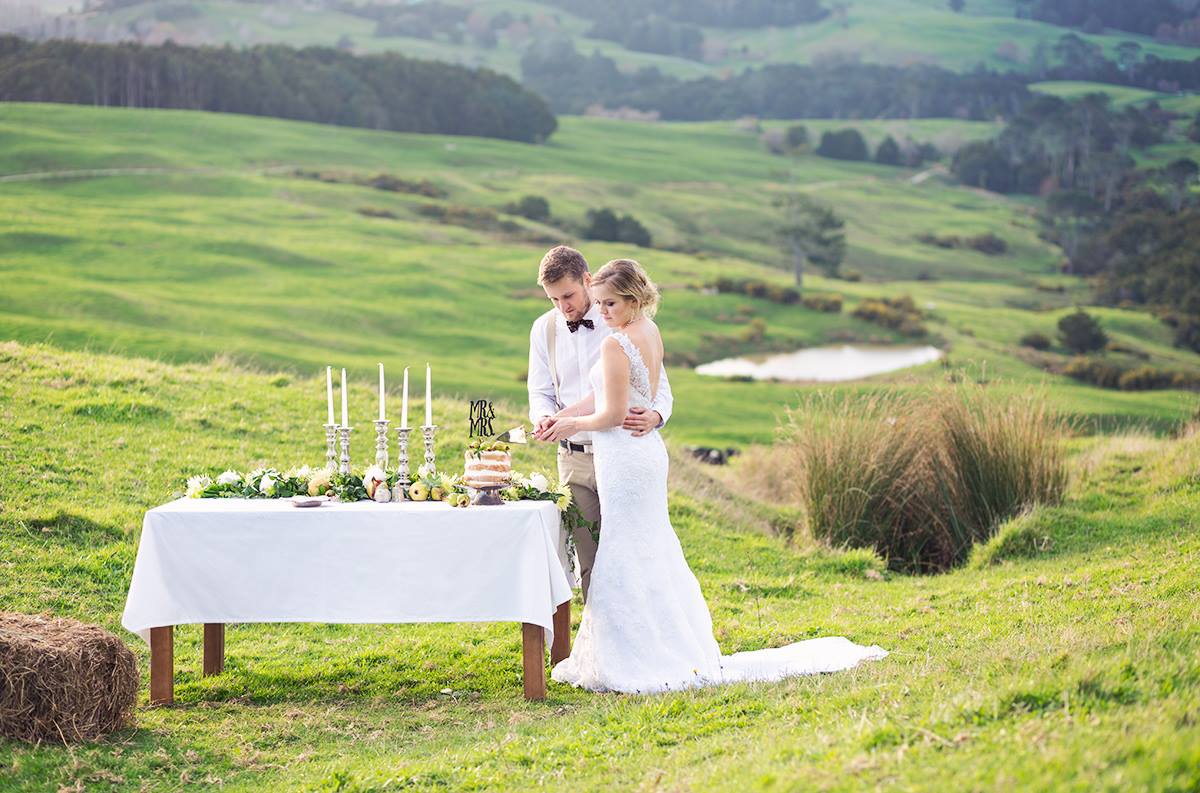 A summery of the new 2015 Spring Wedding Dress Trends from the New York Bridal Week.
* New wedding colours - different hues of blues, greys and also mint green
* Off-the-shoulder gowns - different variations of the off-the-shoulder neckline
* Oversized bows and lots of ruffles

* Capes of various lengths and styles

* Convertible skirts in tulle
* Lace sleeves
* Gorgeous pearl and detail embellishments on gowns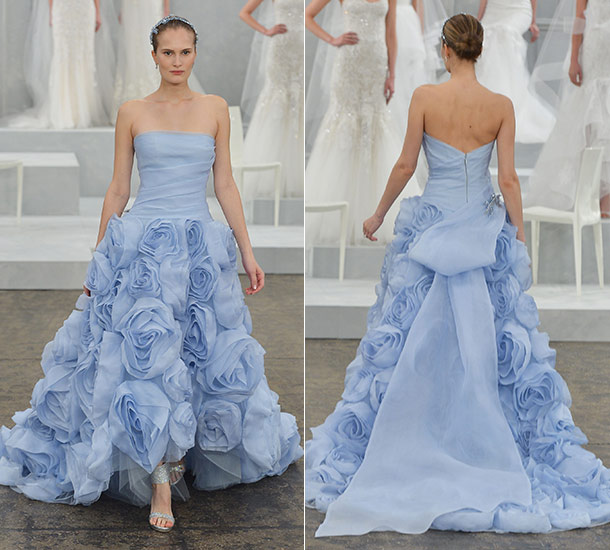 Monique LHuillier 2015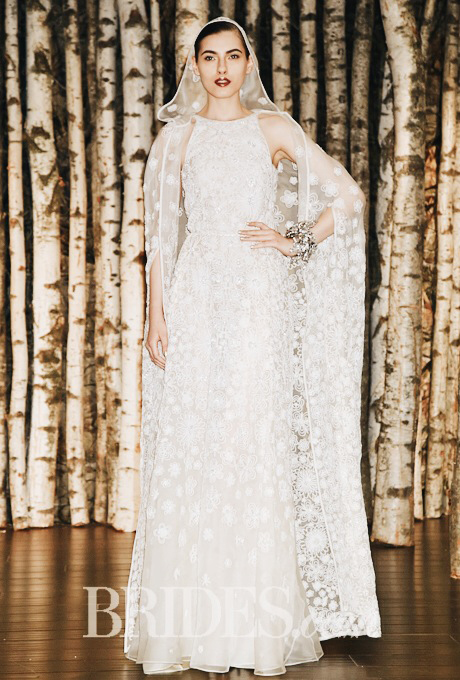 Flowergirls and Brides has received the 2012 WeddingWise People's Choice Award!

The most visited profile page on WeddingWise!
Thank you for your support and for visiting Flowergirls and Brides!
See the 3rd Annual Weddingwise Awards
----------------------------------------------------------------------------------------------------
TOP SPRING/SUMMER WEDDING TRENDS FOR 2014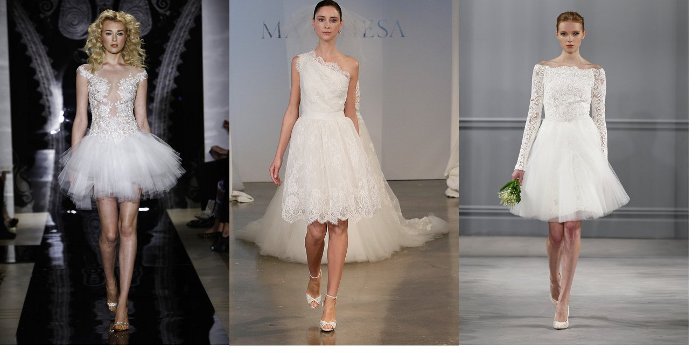 Pictured Reem Acra, Marchesa, Monique LHuillier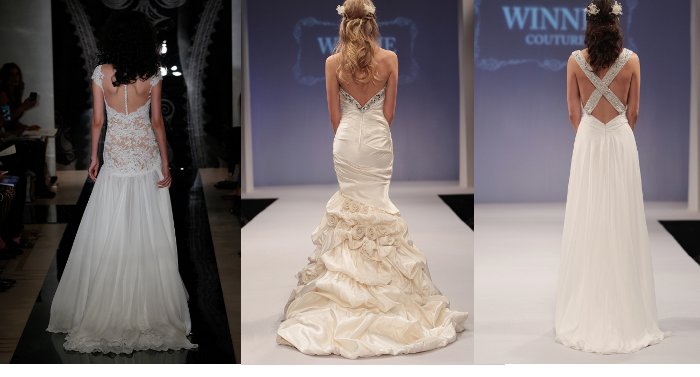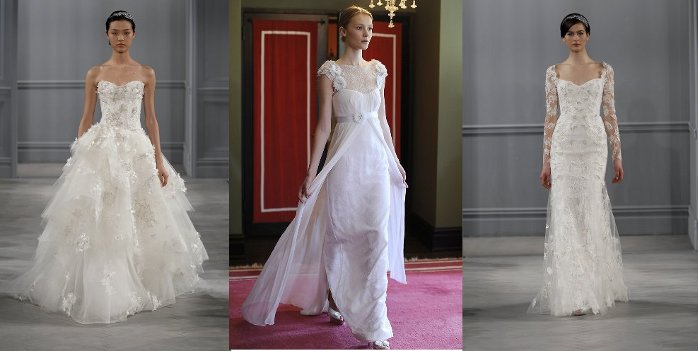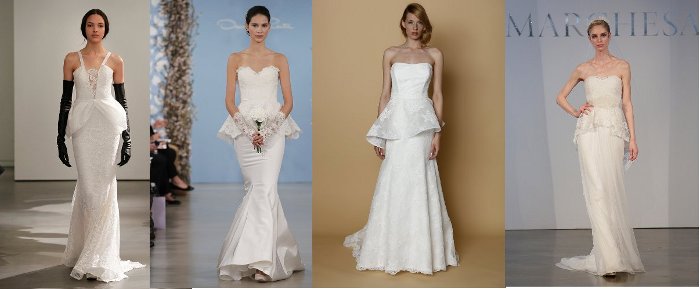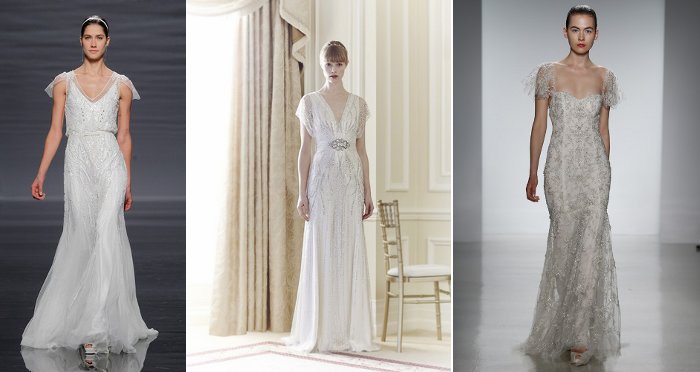 TOP AUTUMN 2013 BRIDAL GOWN TRENDS
The New York International Bridal Fashion Week just finished about a week ago, where the world's top bridal gown designers show cased their gowns for the Autumn 2013 bridal season.
The Top Trends for Autumn 2013 are:
Princess, flowing & ruffled skirts

Bold head pieces - floral and vintage inspired

Flower inspired gowns like roses and irises

Illusion and off-the shoulder necklines

2 dresses in one (carrying over from the Spring season)


Long sleeves including different styles of shaped sleeves

Art deco details

Tea-length gowns

Peplum (carrying over from the Spring season)


Colours; white, gold, blush, rose and mint greens, pink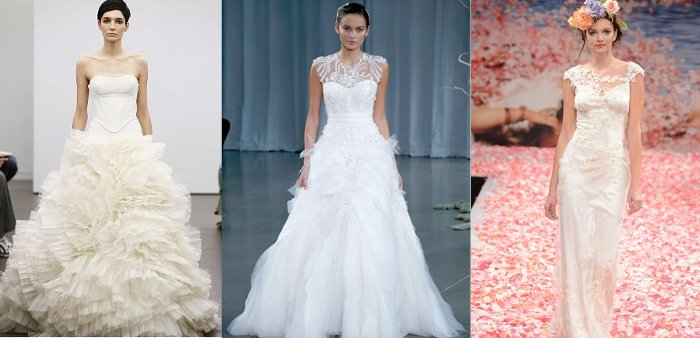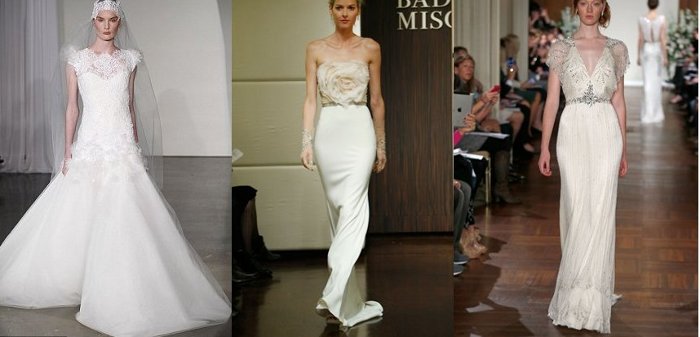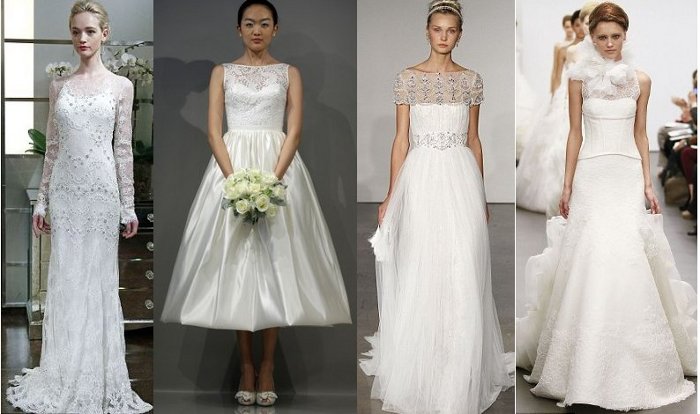 To assist you in choosing the style of bridal gown that is suitable for your body shape we have put together a brief guide for you on what to look for in a gown.
Bridal Gown for the Inverted triangle shape (up-side-down cone).
If your bust is larger than your hip, which means you have broad shoulders and narrower hips, you're an inverted triangle. As a bride, you will want to work with your best asset (your bu
st) and minimize your broad shoulders while creating a stronger definition of your waist.
Look for dresses that has V-neckline, Halter, one-shoulder, scoop or sweet heart necklines, ruching in the mdiddle that emphasize your waist, slight dropped waist line, Aline or Ball gown silhouette.
An elongated bodice will draw the eye downwards and in this way lengthen your upper bodice.
Famous people with inverted triangle shape (cone): Catherine Zeta Jones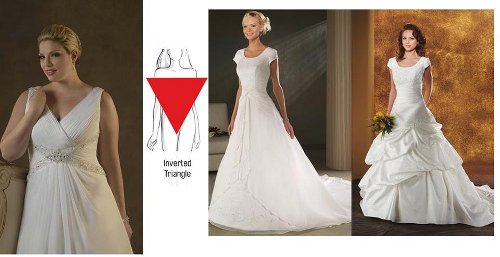 Bridal Gowns for the hour glass-shaped body
The "hour glass" figure, is defined by a narrow waist and somewhat equal bust and hips. Girls with more of a slim hour glass figure can pretty much wear any
style of dress. For fuller-figured ho
ur glass figures, choose a dress that is form-fitting and allow your natural curves to be seen. Ruching is great as it draws the eye away from problem areas.
Sweetheart neckline is very appealing for women with larger bust.
A gown with a dropped waist line helps to elongate the torso.
Fuller hour glass figures should try to avoid full or ruffled gowns, as they may accentuate problem areas and may make the frame appear larger on top as well as the bottom.
The Styles that will flatter your figure include:

Sheath, A-Line, Ball Gown, Dropped Waistline, Mermaid Neckline for an Hourglass Figure: One-Shoulder, V-neck, Strapless, Scoop
Famous people with hour-glass shaped body; Salma Hayek, Jessica Simpson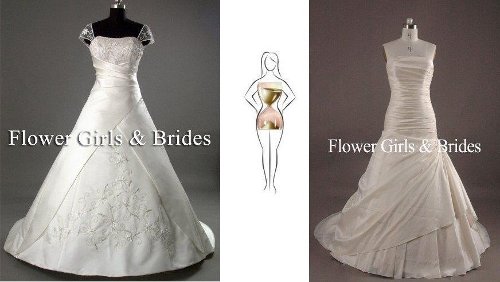 Bridal Gown for the Pear Shape
Often the widest part of the body is below the waist (such as big thighs) and around hips, which many of us wish to conceal. You want to draw attention way from the hips and emphasize the top of your torso a
nd shoulders.
An A-line skirt is great as it hides flaws and is very flattering to your body as it gradually flares out in an A formation from the natural waist to the floor, highlighting the narrowness of your midsection and floating away from the hips and thighs.
Try different necklines to elongate the upper body and draw attention to your neck and shoulders such as V-neckline, strapless or spaghetti-shoulder straps which will show case a more slender upper body.
Famous people that are pear shaped ; Kristina Aguilera, Beyonce, J-LO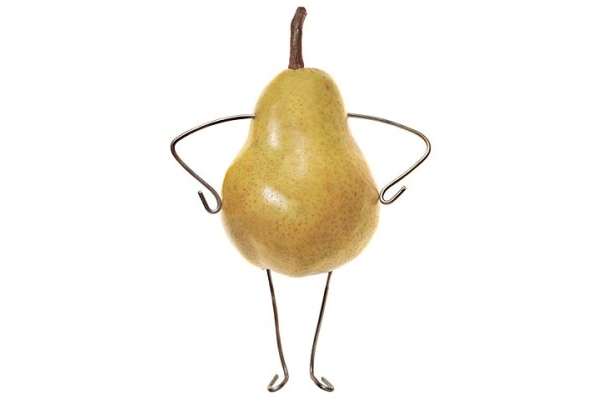 August 2012
A few weeks ago we did a series of few small posts on our Facebook page on what to wear under your wedding gown to achieve a stunning sexy and sleek figure. Here you can read them again. These are of course some suggestions and do not replace the recommendation given by your bridal lingerie consultant.
To show off your inner goddess, why not an empire line gown with a long, flowing skirt. You can wear high-waisted control pants to minimise your tummy and avoid the 'maternity' look that an empire line can create, together with a full-coverage bra.
Nipple covers prevent any embarrassing bumps while toeless tights let you wear strappy sandals. The options are endless for any style of gown and of course we should not forget the usefullness and the popularity of the torsolette.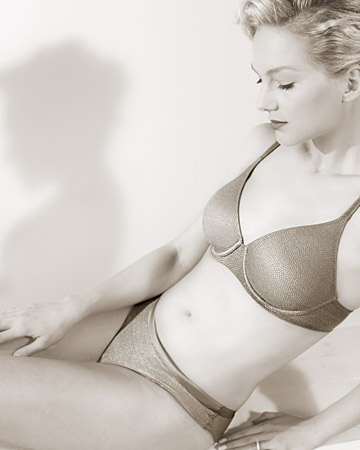 For a sleek silhouette like a fitted gown, you can wear a strapless bra with removable inserts in the bra cup, which gives you the option of increasing or decreasing your bust size, wear with seamless shaper pants/briefs to slim and smooth the waist, tummy and thighs, while preventing lines showing through a bias-cut gown.

For a strapless gown, to show off shoulders, decolletage and emphasise/or create a narrow waist, you can wear a strapless bodysuit with reinforced side panels to create an extra-slim waist, or a strapless bra, with support briefs and a waist cincher for a shapely hour-glass figure.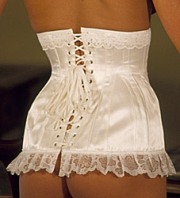 29 July 2012
THE BRIDAL TRENDS FOR SPRING 2013
Month of April saw many important and well-known bridal designers showing their 2013 Bridal Collections.
5 trends that dominated the Spring 2013 Bridal Runways were:
Colour

Portrait backs

Peplums

Lace nouveau

Convertible gowns
Trend: Colour
Colour is in style! Rather than going for the traditional white the bride now has the option of colour, with gowns showing bold colours, luscious reds, hues of blues, and of course – the soft bridal blushes. For a bride the trick is to find a colour that's flattering to her skin tone.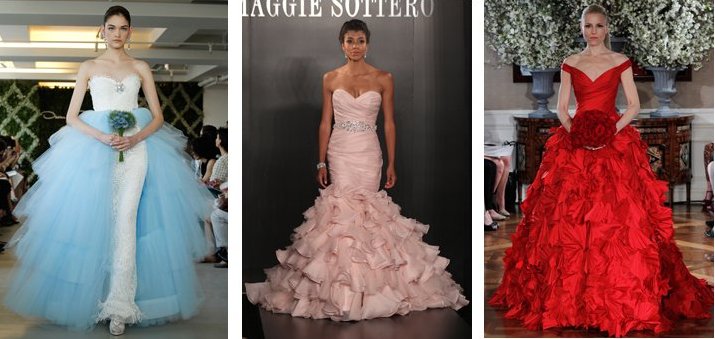 Trend: Portrait Backs
Last season's sexy, open back is again the focus of attention with delicate embroidery, sheer fabrics and lace. Gowns showing bare skin with sheer panels of tulle and keyhole designs are more popular than ever.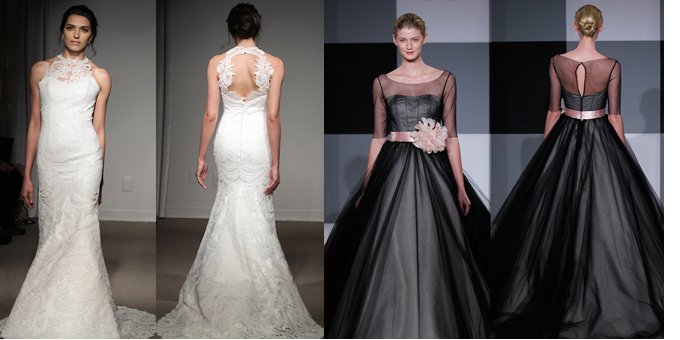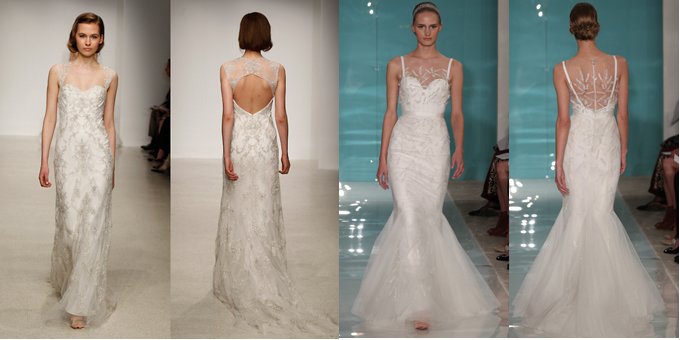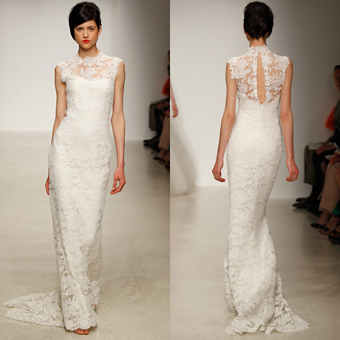 Trend: Peplums
These are the waist defining peplums which offers wedding gowns with a dose of haute couture styling using both structured and softly draped shapes.
Brides do not need to fear the added volume at the hip—peplums of the right proportion are great for defining a waist on both boyish and curvy figures.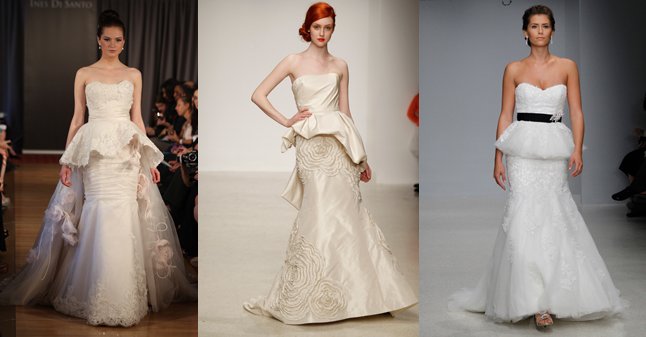 Trend: Lace Nouveau
Inspired by the Royal Wedding, we see more gowns mixed with a combination of tradition but with more soft sexy silhouettes. In general, the silhouette still emphasized is coverage.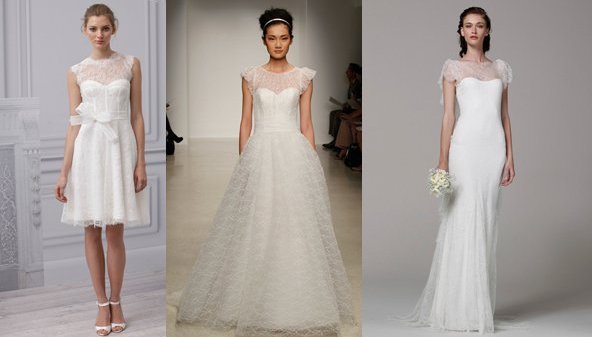 Trend: Convertible /The Peel Away Gown
Designer's gift to the Bride! These are gowns that use removable skirts, trains, and capes to transform your ceremony dress into a distinct and memorable gown for the reception. Think of people like Kim Kardashian.
In many ways the gown works as an outfit that you can just peel away. A fabulous idea! That makes it easy for the Bride to move around and mingle later at the reception.
And if you are not sure which of 2013 trends are right for you? Well, have them all with a convertible gown that has a removable skirt, train, and capes!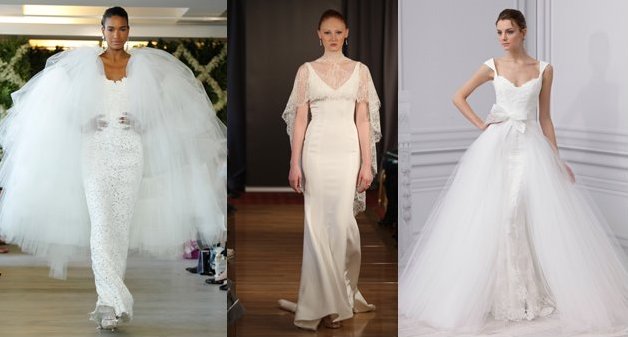 April 2012 Source: Internet
Follow us on Facebook for the latest news and advice.
http://www.facebook.com/flowergirlsandbrides
31 August 2011- Flowergirls and Brides, is now the proud and latest stockist of the beautiful Prive Bridal Jewellery, which will compliment each of our gowns gorgeously. See our section Jewellery by Prive.
August 2011- Yay, Flowergirls and Brides is also featured in the latest (August) issue of the free e-zine Engaged Wedding Magazine, you will find us on page 4 and 6
http://issuu.com/Engaged/docs/august2011
28 July 2011- You can also follow us and 'like' us on facebook. See our pages.
http://www.facebook.com/flowergirlsandbrides
26 July 2011- Ladies! The latest issue of Bride & Groom, New Zealand's No.1 Wedding Magazine is out at your nearest magazine stand! We are so excited here at Flowergirls & Brides as we are advertising in the magazine. See our ad on page 203!
25 July 2011 - Yay, we are finally open! Our website has had a significant makeover. We are having a Re-launch Celebration Sale. Fabulous Savings $$ to be made on your bridal gown, and bridal party!